Oh Brothers! A Heavenly Halvah Spumoni Sundae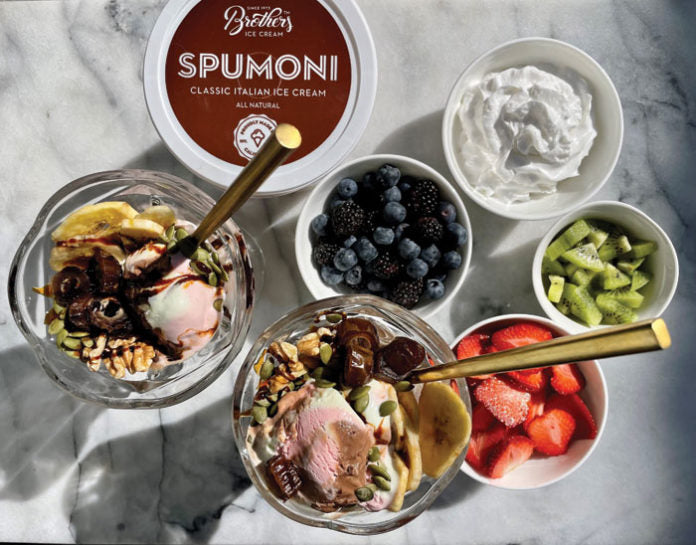 When Brooklyn-born brothers Gary and Errol Winkler came to Southern California in 1973, they dreamed of bringing refreshing Coney Island-style Italian ices to the sunny West Coast. They opened several brick-and-mortar stores called Brothers Italian Ices Cafe. While the ices sold well, they found themselves devoting more and more of their time creating Italian ices and ice creams for other shops and restaurants. They realized that the wholesale business might be more rewarding. 
Gary relates "When I started, I was 22. I was a young kid and I didn't know much. I spent many years learning the business." 
Despite starting the business with a small initial investment, Brothers Desserts company has become one of the longest running independent ice cream makers on the West Coast. Over the years, the business grew to include two certified ice cream plants, 12 production lines, 350 team members and 70,000 square feet of cold storage. In 2020, Brothers acquired the Wisconsin-based ice cream brand Schoep's Ice Cream, in a move to expand their distribution capacity and reduce their carbon footprint. Established in 1928, Schoep's is also a venerated old-school family-run ice cream brand. 
A recent visit to the Brothers headquarters in Orange County left us awed by their incredible manufacturing capabilities. Boxes and boxes of ice cream cones and ice cream sandwiches rolled off the assembly line in automated perfection. Much of the product is co-packaged for your favorite neighborhood grocer (shhh, we can't say who, but we're sure you have some in your freezer).
We can say that you can find Brothers ice cream at Costco, Gelson's, Vons, Albertsons, Smart & Final, Walmart and other local grocers, where their products include delicious handmade bon bons featuring vanilla, mint and salted caramel ice cream dipped in dark chocolate and chocolate chip and brownie ice cream sandwiches that melt in your mouth.
As a company, Brothers strives to bring back the simpler times and surfer nostalgia of 1970's California with their creamy ice cream treats. As a family, Gary and Errol and the next generation of brothers, Gary's sons Adam, Josh and Seth, strive to give back to the Jewish community. They are generous supporters of Chabad of Irvine, Chabad of UC Irvine and other Jewish causes. Their philanthropy includes the dedication of the pediatric wing at Save a Child's Heart (based in Holon, Israel) in honor of Gary's beloved daughter Lauren.
Finally, there's Brothers Spumoni — a positively decadent mix of chocolate, pistachio, strawberry and rum-flavored ice cream studded with crimson cherries, chopped pistachios and chocolate chunks. Spumoni was invented in the 19th century in Naples, Italy. Italian immigrants brought it to the United States, where a combination of chocolate, vanilla and strawberry became known as Neapolitan ice cream. 
Spumoni, which means foam in Italian, is truly a creamy, wondrous sophisticated treat. 
Recently, Rachel was reminiscing about a heavenly halvah and pistachio ice cream dessert that she and Neil enjoyed in a restaurant in Toronto. We were inspired to create a Sephardic Spumoni Sundae. Two scoops of Spumoni ice cream smothered with banana chips, halvah, pumpkin seeds, dates, walnuts and Silan. We give you permission to play with your food and come up with your own favorite combination. Let's celebrate Spring with some delicious ice cream!  
---
Sharon Gomperts and Rachel Emquies Sheff have been friends since high school. The Sephardic Spice Girls project has grown from their collaboration on events for the Sephardic Educational Center in Jerusalem. Upcoming events include a Sharsheret Passover Cooking Webinar. Follow them on Instagram @sephardicspicegirls and on Facebook at Sephardic Spice SEC Food. Website sephardicspicegirls.com/full-recipes